Psychospołeczne skutki redukcji zatrudnienia i przeciwdziałanie na przykładzie firmy inwestycyjnej
Lech Miklaszewski

Wyższa Szkoła Bankowa we Wrocławiu
Abstract
Autor podnosi problematykę społecznych skutków derekrutacji dotykajacych tych, którzy uchronili sie przed zwolnieniem. Zwraca uwagę na znaczenie psychospołecznych kosztów redukcji zatrudnienia wśród tych, którzy pozostali ale również dla powodzenia całego przedsiebiorstwa. Przestrzega również przed ich lekceważeniem formułując konkretne wskazówki jak te koszty neutralizować. Powyższa problematyka została zilustrowana studium przypadku firmy inwestycyjnej.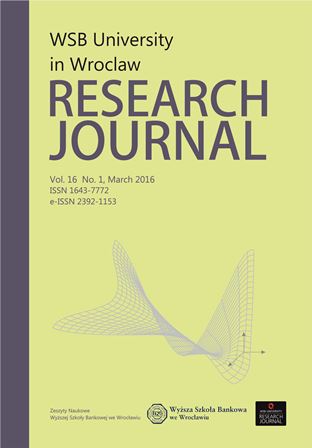 The aim of CEREM is to make scientific work available in accordance with the principle of open access. The rules mentioned below are important, as they enable CEREM and its publisher, the WSB University in Wrocław, to distribute the scientific work to a wide public while complying with specific legal requirements, at the same time protecting the rights of the authors.
The author transfers to the WSB University in Wrocław, free of charge and without territorial limitations, with all proprietary copyrights to the said piece of work in the understanding of the act of 4th February 1994 on copyrights and derivative rights (Journal of Laws of 1994, no. 24, item 83, as amended) on an exclusivity basis, i.e. the rights to:
1. Make the piece of work in question available via the Digital Library established by the WSB University in Wrocław.
2. Produce, record and reproduce in multiple copies the piece of work using any techniques whatsoever, including printing, reprography, magnetic recording and digital processing, and particularly its reproduction by recording on CDs and similar data carriers,
3. Use fragments of the piece of work for promotional purposes in publications, promotional materials, the Internet and Intranet type networks managed by the WSB University in Wrocław.
4. Store the piece of work into computer databases managed by the WSB University in Wrocław.
5. Copy and reproduce the piece of work using photo-mechanic technologies other than those commonly known at the time of the signature hereof (photocopies, Xerox copies etc.),
6. Process the piece of work, transferring it into an electronic form, and distribute it on the Internet without limitations.