Developing Case Writing in Smaller Universities
Keywords:
case method, peer-reviewed case journals, case research conferences, case writing workshops, scholarships for new case writers, case research associations, NACRA, The Case Centre, rankings of case journals
Abstract
Abstract: Study programmes in economics and management should be more focused on developing students' critical thinking skills and the capabilities to solve practical problems. Case method is admittedly one of the best techniques to accomplish these goals. Thus, disseminating the benefits of case method in academic teaching as well as supporting case writing among scholars is of great importance. Despite the many proven benefits of the case method and the growing use of cases in teaching management and economics, it seems that the writing of cases is undertaken by not so many academics. There is evidence of the lack of support at smaller schools to potential case writers from administrators, in terms of motivation, recognition, training, time, and funding, and on the other hand, there is little awareness among faculty about international scholarships, available peer-reviewed publishing opportunities for cases, and peer support via international case conferences. This paper attempts to fill in the existing information gap and offer helpful guidance to faculty and school administrators.
Aim: The aim of this paper is to support the development of case writing in the management and economics subjects by faculty of smaller universities where typically the local peer support is limited or non-existent, while the value of such academic research activity may be underestimated by school deans. The paper offers practical guidance on how to get international support while developing teaching cases.
Design / Research methods: This paper is a policy analysis type of research. It is based on secondary sources as well as primary sources such as personal observations and experience of the author who has been teaching finance and business since 1995, has published the first case in 2015, has authored 10+ cases by early 2022, has received 3 international case writing awards, and has been elected to the Board of NACRA, the leading case research association in the U.S.
Conclusions / findings: The use of case method in teaching management and economics has multiple benefits, including its virtuous role in school accreditations and industry-academia collaboration, as well as its powerful boost to the professional development of faculty. Faculty involvement however will remain limited unless the school deans and the accrediting bodies apply proper motivation to support academic case writing. The paper lists specific policy recommendations for promoting case research and case writing, which are feasible to implement in small universities with a limited budget.
Originality / value of the article: There are currently no papers that present such an overview of the current academic case writing scene, case conferences, funding, peer-reviewed case publication opportunities, as prepared by the author based on the personal experience as finance professor and case writer. It is a unique and valuable practical guidance for faculty members who are looking to get involved in case writing or for deans who are thinking of feasible measures to promote case writing and case research by tapping into the existing global resources and opportunities.
JEL: A21, A22, A23
References
Ballesteros-Sola M., Goldman M. (2021), Envisioning the Teaching Note of the Future, Chapter 9 in "Case Method for Digital Natives" (Edited by Ajoy Kumar Dey and Shreya Mishra), Bloomsbury India.
Currie R., Pandher G. (2013), Management Education Journals' Rank and Tier by Active Scholars, "Academy of Management Learning & Education", vol. 12 no. 2, pp. 194-218.
Deighton J. A., Mela C. F., Moorman C. (2021), Marketing Thinking and Doing. "Journal of Marketing", vol. 85 no. 1, pp. 1–6. https://doi.org/10.1177/0022242920977093.
Dolansky E. (2022), Why Write Cases? Keynote speech at ASAC 2022, 4-7 June, Canada.
Fisher G. (2020), Why every business professor should write practitioner-focused articles. "Business Horizons", vol. 63 no. 4, pp. 417-419, ISSN 0007-6813, https://doi.org/10.1016/j.bushor.2020.03.004.
Grandy G., Lawrence J., Gogan J., Boroff K.E., Shay J. (2021), Teaching cases research journals: The same and different as other research journals. "Case Folio. The IUP Journal of Management Case Studies", vol. 21 no. 3, pp.87-92.
Nohria N. (2021), What the Case Study Method Really Teaches, "Harvard Business Review", https://hbr.org/2021/12/what-the-case-study-method-really-teaches [21.12.2021].
Roos J. (2014), The Renaissance We Need in Business Education, "Harvard Business Review", https://store.hbr.org/product/the-renaissance-we-need-in-business-education/H00VUM [21.12.2021].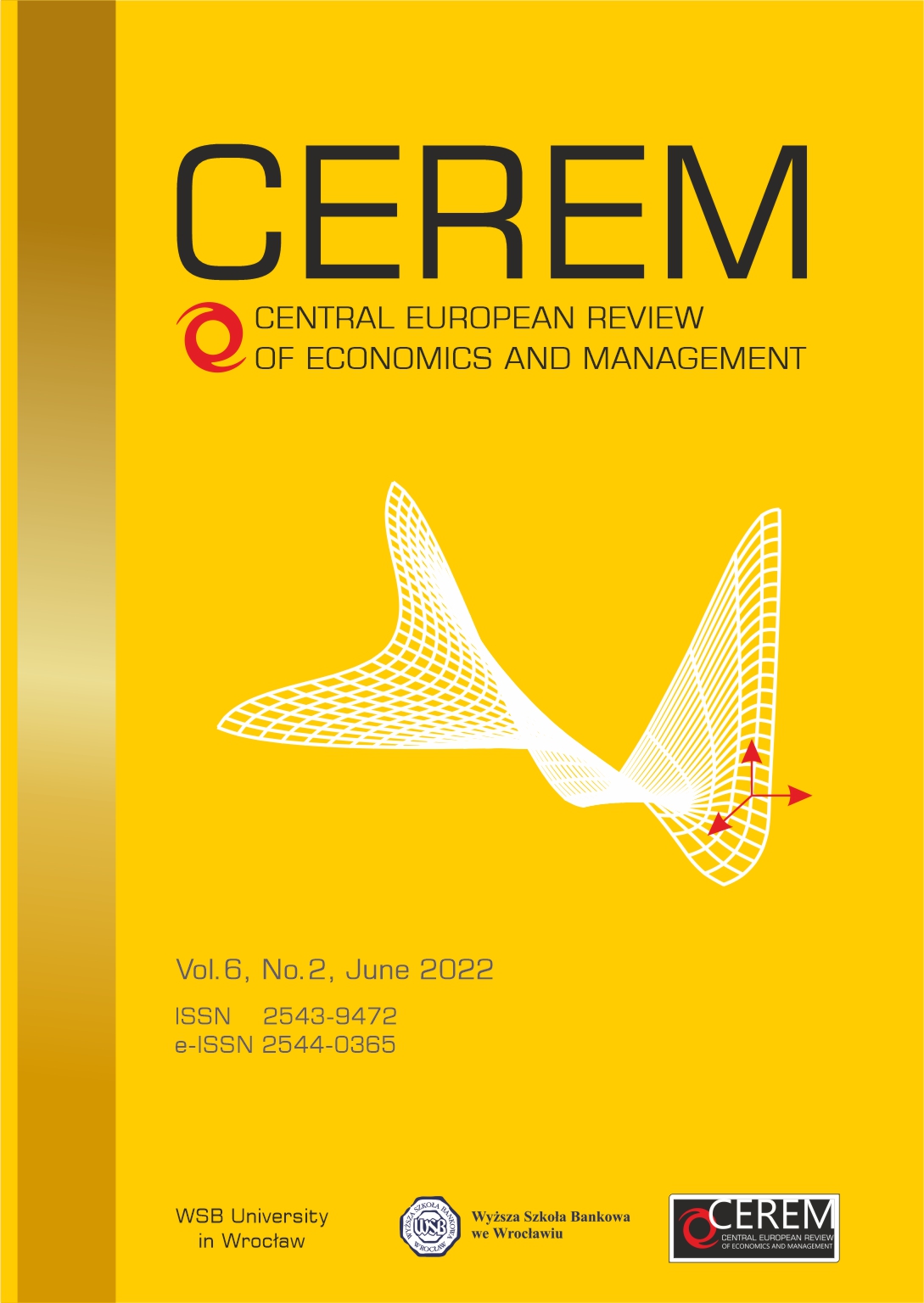 Downloads
License
The aim of CEREM is to make scientific work available in accordance with the principle of open access. The rules mentioned below are important, as they enable CEREM and its publisher, the WSB Merito University in Wroclaw, to distribute the scientific work to a wide public while complying with specific legal requirements, at the same time protecting the rights of the authors.
The author transfers to the WSB Merito University in Wroclaw, free of charge and without territorial limitations, with all proprietary copyrights to the said piece of work in the understanding of the act of 4th February 1994 on copyrights and derivative rights (Journal of Laws of 1994, no. 24, item 83, as amended) on an exclusivity basis, i.e. the rights to:
1. Make the piece of work in question available via the Digital Library established by the WSB Merito University in Wroclaw.
2. Produce, record and reproduce in multiple copies the piece of work using any techniques whatsoever, including printing, reprography, magnetic recording and digital processing, and particularly its reproduction by recording on CDs and similar data carriers,
3. Use fragments of the piece of work for promotional purposes in publications, promotional materials, the Internet and Intranet type networks managed by the WSB Merito University in Wroclaw.
4. Store the piece of work into computer databases managed by the WSB Merito University in Wroclaw.
5. Copy and reproduce the piece of work using photo-mechanic technologies other than those commonly known at the time of the signature hereof (photocopies, Xerox copies etc.),
6. Process the piece of work, transferring it into an electronic form, and distribute it on the Internet without limitations.