COVID-19 – reflections on the surprise of both an expected and unexpected event
Johannes Platje

WSB University in Wrocław

http://orcid.org/0000-0002-6274-1467

Jeffrey Harvey

Netherlands Institute of Ecology, Wageningen, The Netherlands, and Vrije University, Amsterdam, The Netherlands

Lez Rayman-Bacchus

University of Winchester Business School, Winchester
Abstract
Aim: This paper reflects on the COVID-19 epidemic from the perspective of small probabilities and the difficulty of predicting similar events. Against the background of basic economic principles, the importance of the precautionary principle for crisis management is discussed, as well as potential consequences of this epidemic.
Findings: The authors argue that whilst the epidemic as such was unexpected, in future countries should be prepared for such stochastic events to happen. This requires a precautionary approach. When society is not prepared for such a calamity, or waits too long to implement measures to deal with it, the social and economic costs may be very high – much higher than 'hedging bets' and losing. The article reflects on different issues which are meant for further discussion on unpredictable future threats. One important issue is the uncertainty created by this event. This increases the likeliness that something unexpected can appear in the near future, creating the need for research and discussion on public and government responses to these events. Being aware of such challenges increases the likeliness of society and people to be prepared for such developments. It is concluded that the current crisis brings forward the question whether the current political-economic system and globalization makes future pandemics more likely, and whether a radical change towards a more locally oriented economy provides solutions that minimize the likelihood or frequency of future pandemics.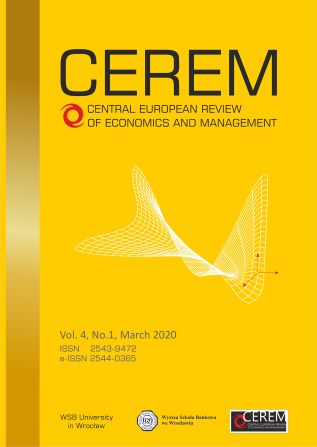 The author transfers on the WSB University in Wroclaw, free of charge and without territorial limitations, with all proprietary copyrights to the said piece of work in the understanding of the act of 4th February 1994 on copyrights and derivative rights (Journal of Laws of 1994, no. 24, item 83, as amended) on an exclusivity basis, i.e. the rights to:
a) exclusively use the piece of work in question under any kind of activity conducted by the WSB University in Wroclaw, and particularly by the Digital Library established by the WSB University in Wroclaw,
b) produce, record and reproduce in multiple copies the piece of work using any techniques whatsoever, including printing, reprography, magnetic recording and digital processing, and particularly its reproduction by recording on CDs and similar data carriers,
c) provide chosen sections of the piece of work for promotional purposes in publications, promotional materials, the Internet and the Intranet type networks managed by the Wrocław School of Banking,
d) enter the piece of work into computer memory managed by the WSB University in Wroclaw,
e) copy and reproduce the piece of work using photo-mechanic technologies other than those commonly known at the time of the signature hereof (photocopies, Xerox copies etc.),
f) translate the piece of work into foreign languages,
g) sell, lend for use and dispose of the piece of work in any manner whatsoever,
h) process the piece of work, transferring it into an electronic form, and distribute it on the Internet without limitations.