Cash management organisation decision-making: economics, strategy and operations
Wim Westerman

University of Groningen, The Netherlands
Abstract
Abstract:
Aim: This article starts from the observations of two cash management experts, who witness varying company views on the almost-vanished issue of structuring the internal decision-making on the organisation of it. The aim of this article is to put the current challenging developments in a digitalizing world into a conceptual perspective.
Research design: The article singles out motives for either centralization or decentralization of cash management, models to organize cash management functions, as well as developments in the field over the last some thirty years. Various theoretical views are studied briefly in order to find a way out of the signalled paradox.
Findings: It can be concluded that multiple practices may coexist both within and between firms, whereby a refined understanding in terms of financial economics, strategic direction and operational flexibility is called for.
Originality: The present study is unique in that it is among the first to signal the return of the centralisation versus decentralisation issue in cash management in a rapidly evolving digital era and multi-legislation world.
Implications: The developments offer a unique opportunity for firms, further reducing their costs, to overthink their cash management system, including its relation to the external world. The study calls for follow-up research in terms of case studies at organisations with varying contingencies and survey questionnaires among representative samples.
Keywords: cash management organisation, (de-) centralisation, decision-making
JEL: B27, G30, L23
References
Bartsch C. (2019), Factors to consider when centralising cash management, The Global Treasurer, 10 September, https://www.theglobaltreasurer.com/2019/09/10/factors-to-consider-when-centralising-cash-management/ [24.04.2020].
Blenken Blijdenstein H., Westerman W. (2008), Optimising a global cash management structure at Philips Electronics, "Journal of Corporate Treasury Management", vol. 1 no. 4, pp. 317-325.
Geyte J. (2017), Interne bank als dienstverlener, geen winstmotor, CM Web, 1 November, https://cmweb.nl/2017/11/interne-bank-als-dienstverlener-geen-winstmotor/ [25.04.2020].
Hallèn L. (1982), International industrial purchasing, University of Uppsala, Uppsala.
McMenemy L. (2019), The role of the head of treasury in entity governance, 19 July, https://insights.diligent.com/entity-governance/role-head-treasury-entity-governance/ [25.04.2020].
Nooteboom B. (1993), Networks and transactions: do they connect?, in: Dynamics of the firm. Strategies of pricing and organisation, Groenewegen J. (ed.), Edward Elgar, Aldershot, pp. 9-26.
Polák P., Klusáček I. (2010), Centralisation of treasury management, Business Perspectives, Sumy (Ukraine).
Polák P., Masquelier F, Michalski G. (2018), Towards treasury 4.0. The evolving role of corporate treasury management for 2020, "Management – Journal of Contemporary Management Issues", vol. 23 no. 2, pp. 189-197.
Polák P., Nelischer C., Guo H., Robertson D.C. (2019), "Intelligent" finance and treasury management: what we can expect, "AI & Society", vol. 2019, pp. 1-12.
Riggins N. (2019), Centralisation versus decentralisation, "The Global Treasurer", 8 February.
Soenen L.A., Aggarwal R. (1989), Cash and foreign exchange management. Theory and corporate practice in three countries, "Journal of Business Finance & Accounting", vol. 16 no. 5, pp. 599-616.
Treasury Today (2016), Taking a flexible approach to centralisation, http://treasurytoday.com/2016/09/taking-a-flexible-approach-to-centralisation-ttii [25.04.2020].
Westerman W. (2017), Ja toch weer! Cash management: centralisatie of decentralisatie?, CM Web, 12 December, http://cmweb.nl/2017/12/cash-management-centralisatie-decentralisatie/ [25.04.2020].
Westerman W., Von Eije J.H. (2005), Multinational cash management in Europe towards centralisation and disintermediation: the Philips case, "Managerial Finance", vol. 31 no. 10, pp. 65-74.
Westerman W., Hessels J., Ritsema H.A. (1997), Treasury management in a Euro-Japanese firm, in: Proceedings 8ste NOBO Onderzoekdag Bedrijfskunde, 18 november, University of Twente, Enschede, pp. 105-115.
Westerman W., Ritsema H.A. (1999), Cash management in a changing European market, in: Financiering en Belegging 1999, Annaert J., Huisman R., Spronk J. (eds.), Erasmus University Rotterdam, Rotterdam, pp. 263-291.
Williamson O.E. (1975), Markets and hierarchies. Analysis and antitrust implications, Free Press, New York.
Williamson O.E. (1989), Transaction cost economics, in: Handbook of industrial organization, part 1, Schmalensee R., Willig R. (eds.), North Holland/Elsevier, Amsterdam, pp. 135-178.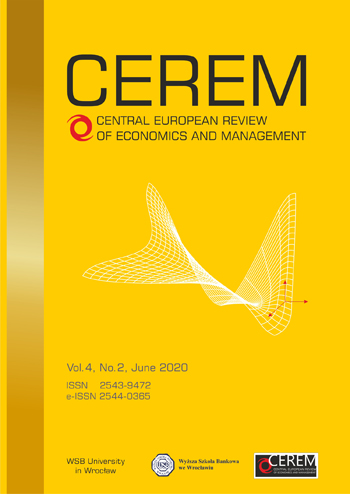 Copyright (c) 2020 WSB University in Wroclaw
This work is licensed under a Creative Commons Attribution-NonCommercial-NoDerivatives 4.0 International License.
The author transfers on the WSB University in Wroclaw, free of charge and without territorial limitations, with all proprietary copyrights to the said piece of work in the understanding of the act of 4th February 1994 on copyrights and derivative rights (Journal of Laws of 1994, no. 24, item 83, as amended) on an exclusivity basis, i.e. the rights to:
a) exclusively use the piece of work in question under any kind of activity conducted by the WSB University in Wroclaw, and particularly by the Digital Library established by the WSB University in Wroclaw,
b) produce, record and reproduce in multiple copies the piece of work using any techniques whatsoever, including printing, reprography, magnetic recording and digital processing, and particularly its reproduction by recording on CDs and similar data carriers,
c) provide chosen sections of the piece of work for promotional purposes in publications, promotional materials, the Internet and the Intranet type networks managed by the Wrocław School of Banking,
d) enter the piece of work into computer memory managed by the WSB University in Wroclaw,
e) copy and reproduce the piece of work using photo-mechanic technologies other than those commonly known at the time of the signature hereof (photocopies, Xerox copies etc.),
f) translate the piece of work into foreign languages,
g) sell, lend for use and dispose of the piece of work in any manner whatsoever,
h) process the piece of work, transferring it into an electronic form, and distribute it on the Internet without limitations.