Towards a Sustainable Circular Economy – Remarks on plastics and wood-waste sector
Markus Will

University of Applied Sciences Zittau/Goerlitz
Abstract
Aim: As the traditional approach towards entering a path of sustainabe development based on a "efficiency, consistency, sufficiency aproach" is questionable, This article discusses opportunities and challenges for the circular economy to become a "last chance" fort he current capitaist system to become more sustainable.
Design / Research methods: Two case studies of material (waste) streams of plastics and wood-waste are presented in order to identify challenges in the development and functioning of the circular economy.
Conclusions / findings: While the circular economy can deal with threats to sustainability embraced in an efficiency and sufficiency approach, it refers to a technology-driven consistency approach, not questioning the consumption and production patterns in the capitalist economy, and the functioning of the market economy as such.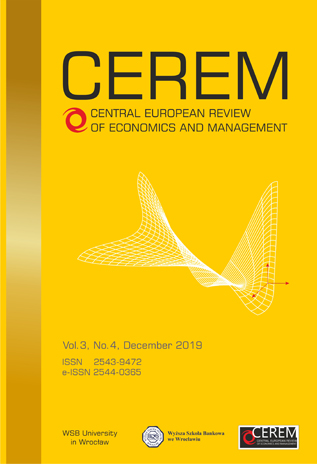 The author transfers on the WSB University in Wroclaw, free of charge and without territorial limitations, with all proprietary copyrights to the said piece of work in the understanding of the act of 4th February 1994 on copyrights and derivative rights (Journal of Laws of 1994, no. 24, item 83, as amended) on an exclusivity basis, i.e. the rights to:
a) exclusively use the piece of work in question under any kind of activity conducted by the WSB University in Wroclaw, and particularly by the Digital Library established by the WSB University in Wroclaw,
b) produce, record and reproduce in multiple copies the piece of work using any techniques whatsoever, including printing, reprography, magnetic recording and digital processing, and particularly its reproduction by recording on CDs and similar data carriers,
c) provide chosen sections of the piece of work for promotional purposes in publications, promotional materials, the Internet and the Intranet type networks managed by the Wrocław School of Banking,
d) enter the piece of work into computer memory managed by the WSB University in Wroclaw,
e) copy and reproduce the piece of work using photo-mechanic technologies other than those commonly known at the time of the signature hereof (photocopies, Xerox copies etc.),
f) translate the piece of work into foreign languages,
g) sell, lend for use and dispose of the piece of work in any manner whatsoever,
h) process the piece of work, transferring it into an electronic form, and distribute it on the Internet without limitations.