Sustainability of the Bulgarian food processing industry
Nadya Kostadinova

Trakia University

Nadezhda Petrova

Trakia University

Georgi Aleksiev

Trakia University
Abstract

Abstract:
Bulgarian agricultural sector underwent a transformation during the last decade of the 20th century, and its economic impact has lessened as a result. After the accession of the country to the European Union in 2007 Bulgarian agricultural product had uninterrupted access to the common market and most producers has oriented their production towards it. As a result Bulgarian food processing industry was put under great stress, due to its supply chain being greatly compromised.
Aim: To investigate the sustainability of the functioning and development of the food processing industry in Bulgaria.
In order to achieve this goal, the following tasks are solved:
- to analyze the state and development of Bulgaria food industry;
- to examine the problems and prospects for its sustainable functioning.
Design / Research methods: The methods used to solve the tasks are: analysis and synthesis, systematic and structural approach, statistical calculations.
Conclusions / findings: The expectations of the study are that both positive and negative trends in the sustainable functioning of the food processing industry in Bulgaria will be identified.
Originality / value of the article: The prospects for the sustainable development of the food processing industry are in direct correlation and dependence not just on the opportunities for development of foreign markets as a result of the liberalization and globalization of trade, but also on the preservation of its positions in our national market.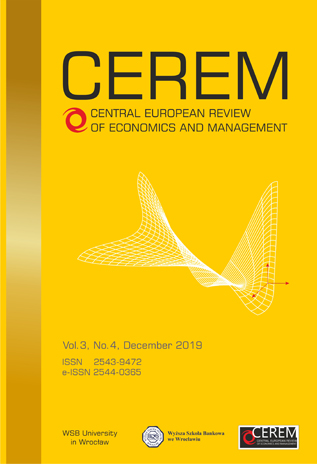 The author transfers on the WSB University in Wroclaw, free of charge and without territorial limitations, with all proprietary copyrights to the said piece of work in the understanding of the act of 4th February 1994 on copyrights and derivative rights (Journal of Laws of 1994, no. 24, item 83, as amended) on an exclusivity basis, i.e. the rights to:
a) exclusively use the piece of work in question under any kind of activity conducted by the WSB University in Wroclaw, and particularly by the Digital Library established by the WSB University in Wroclaw,
b) produce, record and reproduce in multiple copies the piece of work using any techniques whatsoever, including printing, reprography, magnetic recording and digital processing, and particularly its reproduction by recording on CDs and similar data carriers,
c) provide chosen sections of the piece of work for promotional purposes in publications, promotional materials, the Internet and the Intranet type networks managed by the Wrocław School of Banking,
d) enter the piece of work into computer memory managed by the WSB University in Wroclaw,
e) copy and reproduce the piece of work using photo-mechanic technologies other than those commonly known at the time of the signature hereof (photocopies, Xerox copies etc.),
f) translate the piece of work into foreign languages,
g) sell, lend for use and dispose of the piece of work in any manner whatsoever,
h) process the piece of work, transferring it into an electronic form, and distribute it on the Internet without limitations.