Wykorzystanie rozwiązań klasy Business Intelligence w przedsiębiorstwach
Jolanta Pondel

Wyższa Szkoła Handlowa we Wrocławiu

Wojciech Maciejewski

Wyższa Szkoła Handlowa we Wrocławiu
Abstract
Proces podejmowania decyzji w przedsiębiorstwie powinien zachodzić w sytuacji, gdy przedsiębiorstwo posiada pełny zasób informacji o zjawiskach wpływających i kształtujących działanie przedsiębiorstwa. Informacje te mogą pochodzić z różnych miejsc przedsiębiorstwa i mieć różną formę, ważne jednak by w procesie decyzyjnym wykorzystać wartościowe informacje, dotyczące całego zjawiska względem którego ma być podjęta decyzja. Niezbędnym staje się wykorzystanie narzędzi informatycznych, które ułatwiają pozyskiwanie, gromadzenie i przekazywanie informacji, tak by stanowiły podstawę do przeprowadzania analiz i podejmowania trafnych decyzji. Celem artykułu jest przedstawienie systemów klasy Business Intelligence, wskazanie korzyści a także obaw przedsiębiorstw dotyczących wdrażania i eksploatacji tych systemów. Rozważania oparto o przeprowadzone badania dotyczące aplikacji tych systemów, obszarów i stopnia ich wykorzystywania w badanych przedsiębiorstwach.
References
Bardzki W., 2015, Architektura systemu Business Intelligence – BI, http://www.bardzki.pl/index.php?mid=architektura_business_Intelligence (10.09.2015)
Bennett M., Evelson B., 2013, Best practice tips for business Intelligence success, Published 2013, http://www.computerweekly.com/opinion/Forrester-Best-practice-tips-for-business-Intelligence-success (25.09.2015)
Castells M., 2003, The Power of Identity: v. 2: The Information Age - Economy, Society and Culture (Information Age Series), Blackwell Publishing 2003
Checkland P., Holwell S., 1997, Information, Systems and Information Systems: Making Sense of the Field (Business) Wiley Publishing 1997
Computerworld, 2015, Wykorzystanie systemów BI w przedsiębiorstwach i instytucjach publicznych szanse, zagrożenia, trendy, wyd. IDG Poland, Warszawa 2015.
Decyzje – it, 2015, Raport Poziom informatyzacji przedsiębiorstw w Polsce, część II, http://decyzje-it.pl/centrum-wiedzy/bi-i-controlling/strefa-pobran-613.html (10.10.2015)
Inmon W.H., Hackathorn R.D., 1994, Using the data warehouse, Wiley Publishing 1994.
Kowalczyk T. 2015, BI wdrażajmy bez pośpiechu, Computerworld wyd. IDG Poland, Warszawa 2015,
http://www.computerworld.pl/news/401857/BI.wdrazajmy.bez.pospiechu.html (10.10.2015)
Olszak C.M., Ziemba E. (red.) 2012, Systemy inteligencji biznesowej jako przedmiot badań ekonomicznych, Zeszyty Naukowe UE w Katowicach.
Pondel, M. 2013, Business Intelligence as a service in a cloud environment. In Computer Science and Information Systems (FedCSIS), 2013 Federated Conference on (pp. 1281-1283). IEEE
Pondel J. 2015, Badania dotyczące wykorzystania narzędzi informatycznych w przedsiębiorstwach, Badania statutowe 2015 WSH we Wrocławiu.
Porter M.E., Millar V.E., 1985, How_information_gives you competitive advantage, (How%20Information%20Gives%20You%20Comp-Fall2015.pdf)
Urbanek W., 2013, Dane niczym ropa naftowa, raport: it, http://businessman.pl/aktualnosci/dane-niczym-ropa-naftowa-6319.html (05.10.2015)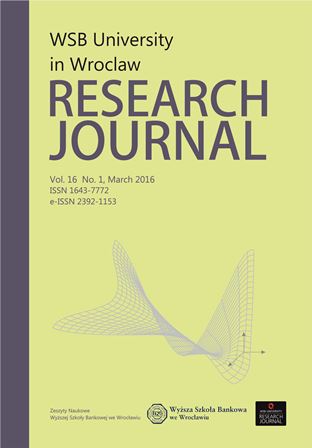 The aim of CEREM is to make scientific work available in accordance with the principle of open access. The rules mentioned below are important, as they enable CEREM and its publisher, the WSB University in Wrocław, to distribute the scientific work to a wide public while complying with specific legal requirements, at the same time protecting the rights of the authors.
The author transfers to the WSB University in Wrocław, free of charge and without territorial limitations, with all proprietary copyrights to the said piece of work in the understanding of the act of 4th February 1994 on copyrights and derivative rights (Journal of Laws of 1994, no. 24, item 83, as amended) on an exclusivity basis, i.e. the rights to:
1. Make the piece of work in question available via the Digital Library established by the WSB University in Wrocław.
2. Produce, record and reproduce in multiple copies the piece of work using any techniques whatsoever, including printing, reprography, magnetic recording and digital processing, and particularly its reproduction by recording on CDs and similar data carriers,
3. Use fragments of the piece of work for promotional purposes in publications, promotional materials, the Internet and Intranet type networks managed by the WSB University in Wrocław.
4. Store the piece of work into computer databases managed by the WSB University in Wrocław.
5. Copy and reproduce the piece of work using photo-mechanic technologies other than those commonly known at the time of the signature hereof (photocopies, Xerox copies etc.),
6. Process the piece of work, transferring it into an electronic form, and distribute it on the Internet without limitations.