Antykryzysowe działania Europejskiego Banku Centralnego
Katarzyna Sum

Szkoła Główna Handlowa w Warszawie Kolegium Gospodarki Światowej Katedra Finansów Międzynarodowych
Abstract
Kryzys finansowy z lat 2007-2010 stanowił duże wyzwanie dla Europejskiego Banku Centralnego (EBC). Specyfiką kryzysu finansowego w strefie euro był jego trzyetapowy przebieg przejawiający się kolejno: zawirowaniami na rynku pieniężnym w połowie 2007 r., przeniesieniem globalnego kryzysu do krajów strefy euro po upadku Lehman Brothers  w 2008 r. oraz kryzysem zadłużenia w 2010 r. Dużym utrudnieniem walki z kryzysem dla EBC było oderwanie polityki monetarnej od polityki fiskalnej i brak możliwości osiągnięcia pożądanego "policy mix".  Celem opracowania jest przedstawienie antykryzysowych działań EBC, ich przyczyn, przebiegu i efektów w poszczególnych fazach kryzysu oraz próba oceny tych działań w świetle ich efektywności oraz zgodności z uprawnieniami EBC.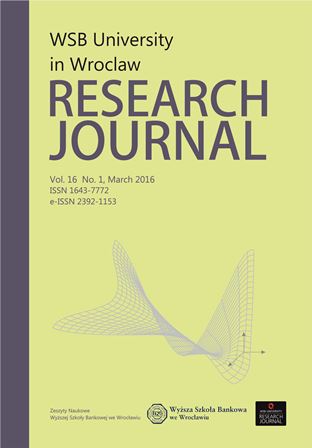 The aim of CEREM is to make scientific work available in accordance with the principle of open access. The rules mentioned below are important, as they enable CEREM and its publisher, the WSB University in Wrocław, to distribute the scientific work to a wide public while complying with specific legal requirements, at the same time protecting the rights of the authors.
The author transfers to the WSB University in Wrocław, free of charge and without territorial limitations, with all proprietary copyrights to the said piece of work in the understanding of the act of 4th February 1994 on copyrights and derivative rights (Journal of Laws of 1994, no. 24, item 83, as amended) on an exclusivity basis, i.e. the rights to:
1. Make the piece of work in question available via the Digital Library established by the WSB University in Wrocław.
2. Produce, record and reproduce in multiple copies the piece of work using any techniques whatsoever, including printing, reprography, magnetic recording and digital processing, and particularly its reproduction by recording on CDs and similar data carriers,
3. Use fragments of the piece of work for promotional purposes in publications, promotional materials, the Internet and Intranet type networks managed by the WSB University in Wrocław.
4. Store the piece of work into computer databases managed by the WSB University in Wrocław.
5. Copy and reproduce the piece of work using photo-mechanic technologies other than those commonly known at the time of the signature hereof (photocopies, Xerox copies etc.),
6. Process the piece of work, transferring it into an electronic form, and distribute it on the Internet without limitations.